The 10 Best Sushi restaurants in Toyama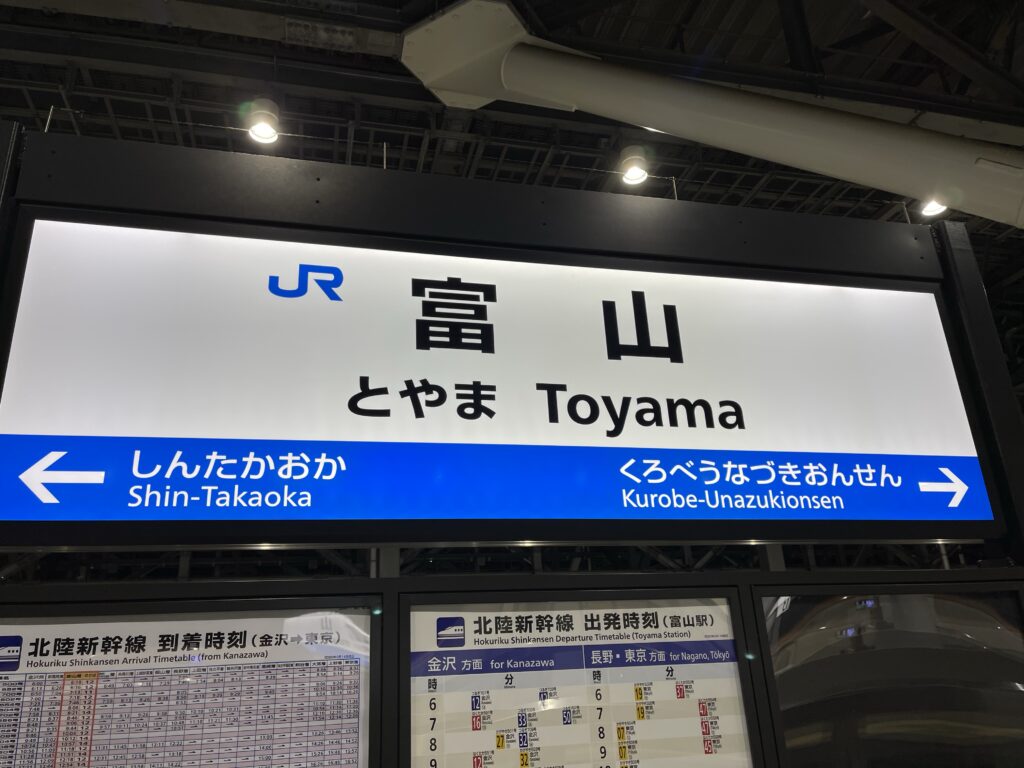 Toyama is my favorite city. But actually, it is not a very famous tourist destination. Toyama is highly my recommendation for all tourists, and they have everything. In this post 3 reasons to visit Toyama-ken , I wrote about the reasons. The main reason why I recommend it is SUSHI. You can enjoy the most delicious sushi in Toyama. I'll introduce five of my best sushi restaurants there. By the way, I am Jupiter Ishida, I traveled around all prefectures in Japan and love eating. Let's get started!
Where is Toyama-ken
Toyama Prefecture is one of the prefectures in the Hokuriku Region. It is rich, located between the Sea of Japan and the Tateyama mountain range. A famous nearby city is Kanazawa. With the recent opening of the Shinkansen bullet train line from Tokyo, it takes only about 2 hours to get there from Tokyo.
Why is Sushi in Toyama so good?
Because Toyama Bay. Toyama Bay is so abundant with fish that it is called a natural fish tank. Nutritious melted snow water flowing from the Tateyama Mountain Range is one factor that makes the fish grow so delicious. Famous seafood here includes cold yellowtail, white shrimp, and firefly squid. Whatever you eat is delicious.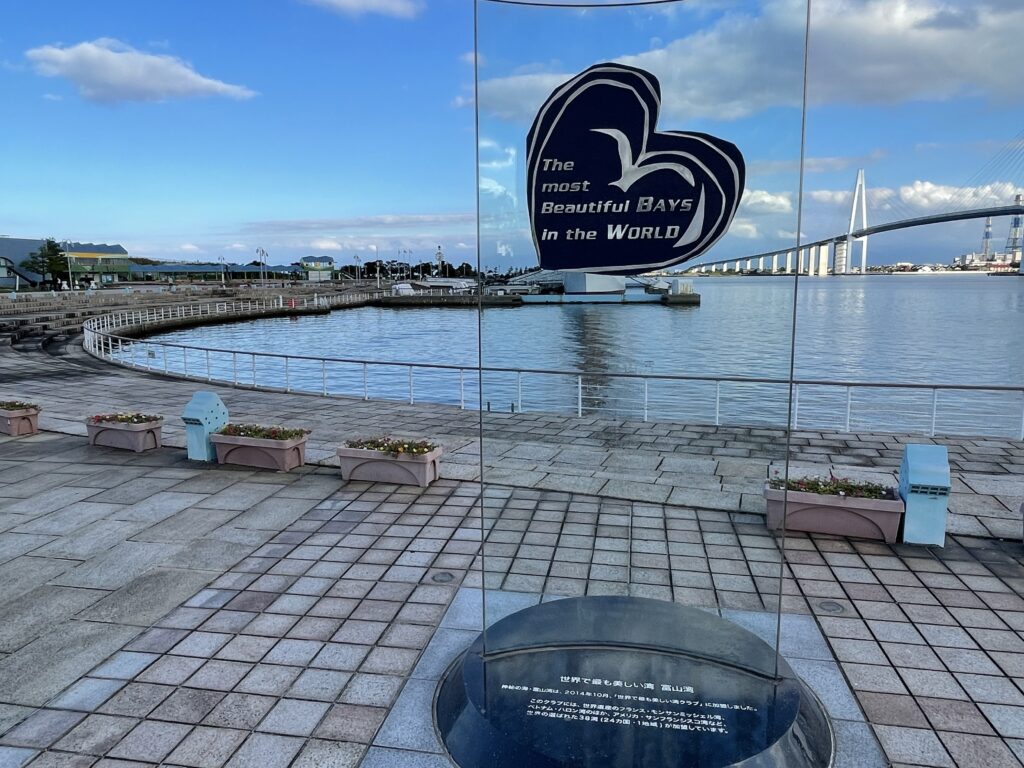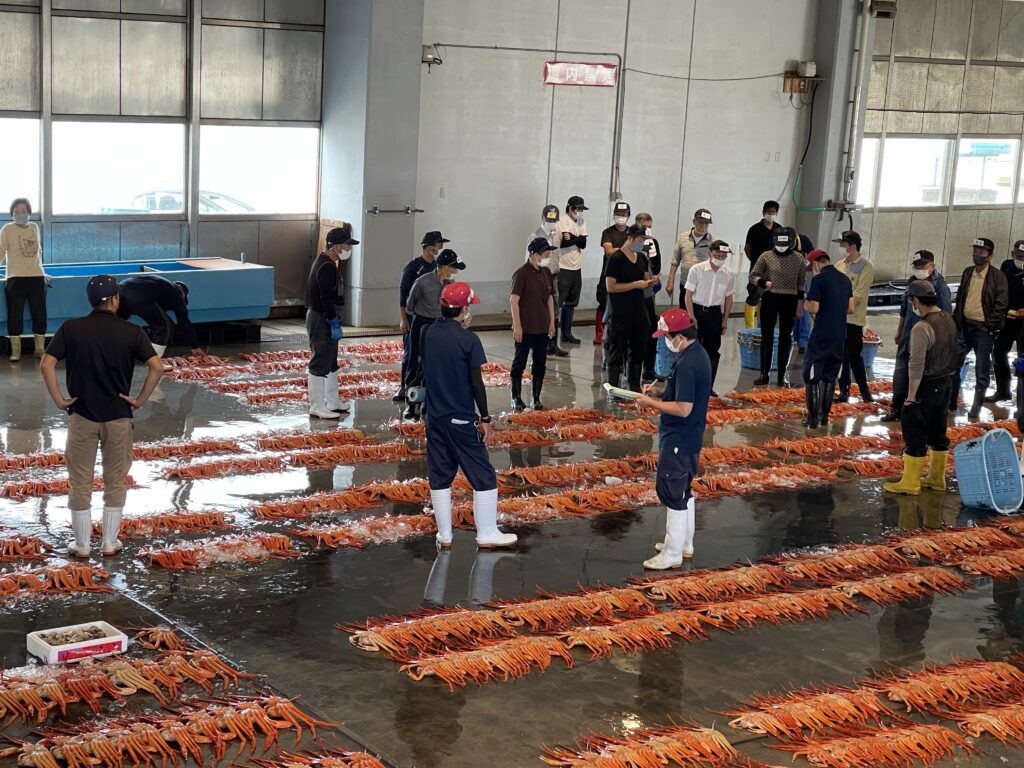 ① Toyama sushi Taneya at Toyama airport
This is the best place. You will be surprised not only by the taste but also by its appearance. The chef is very friendly and will serve you sushi while explaining the process. You can enjoy the freshest and most seasonal sushi. It is located inside Toyama Airport, so if you are flying to Toyama, definitely stop by!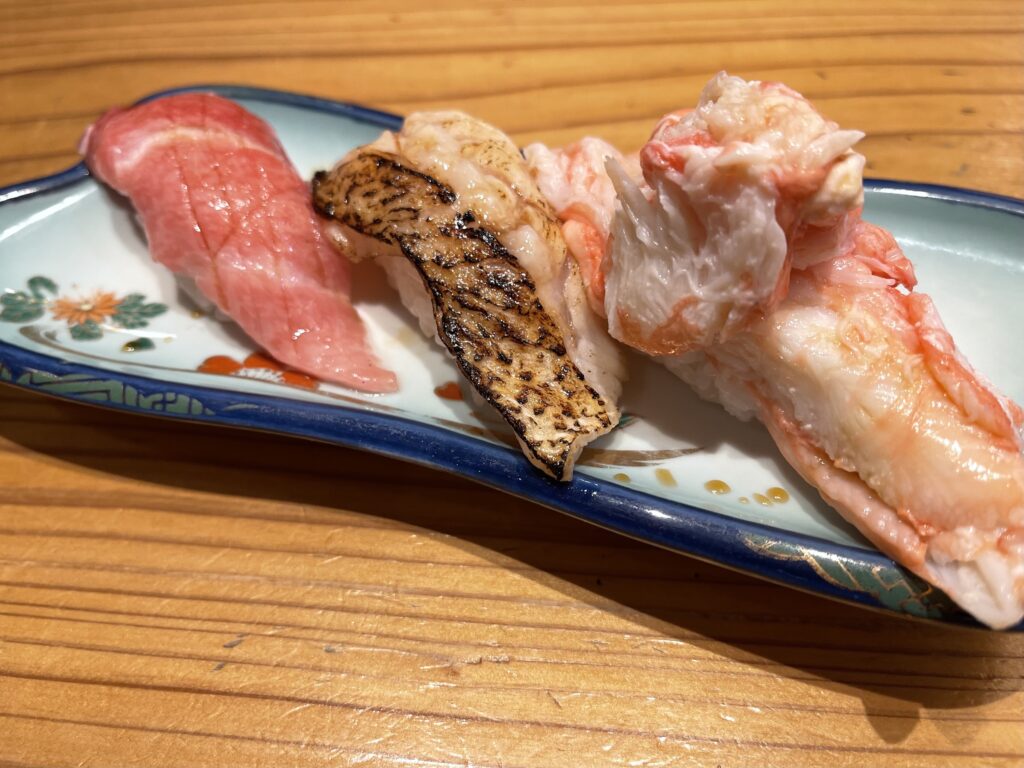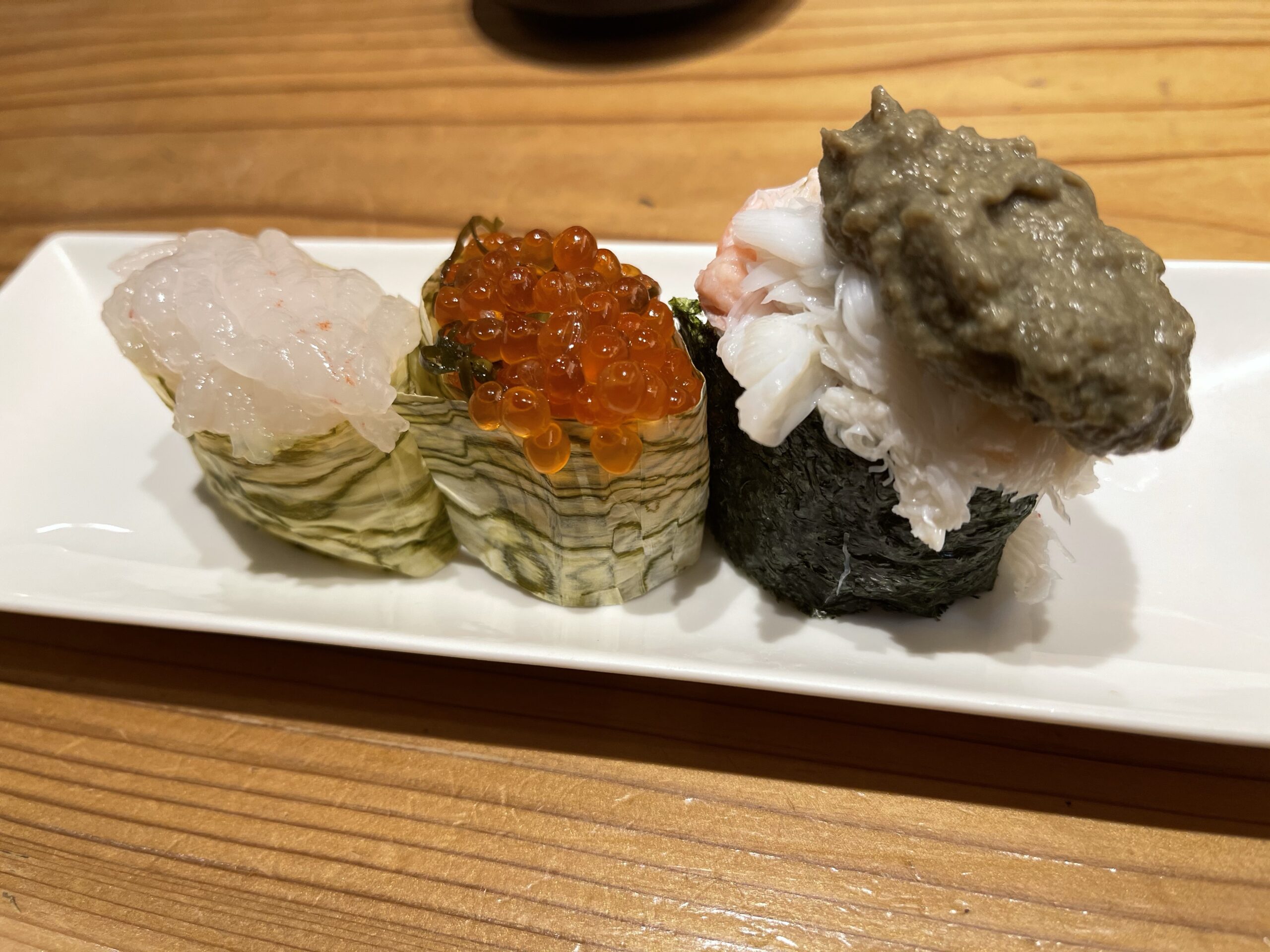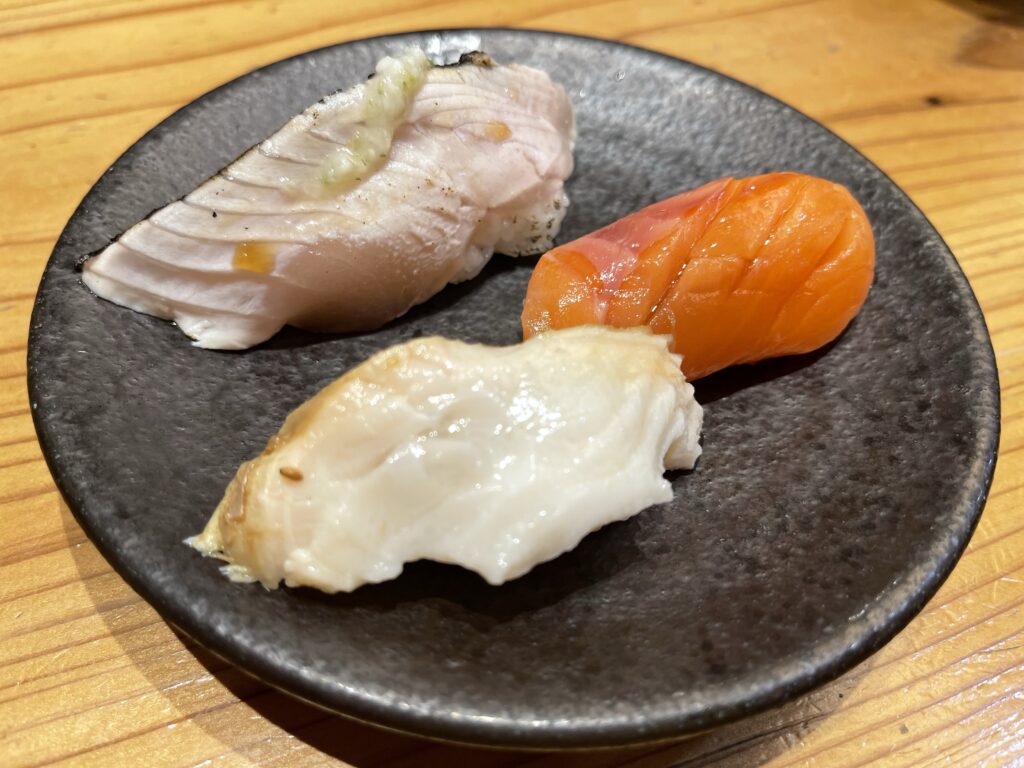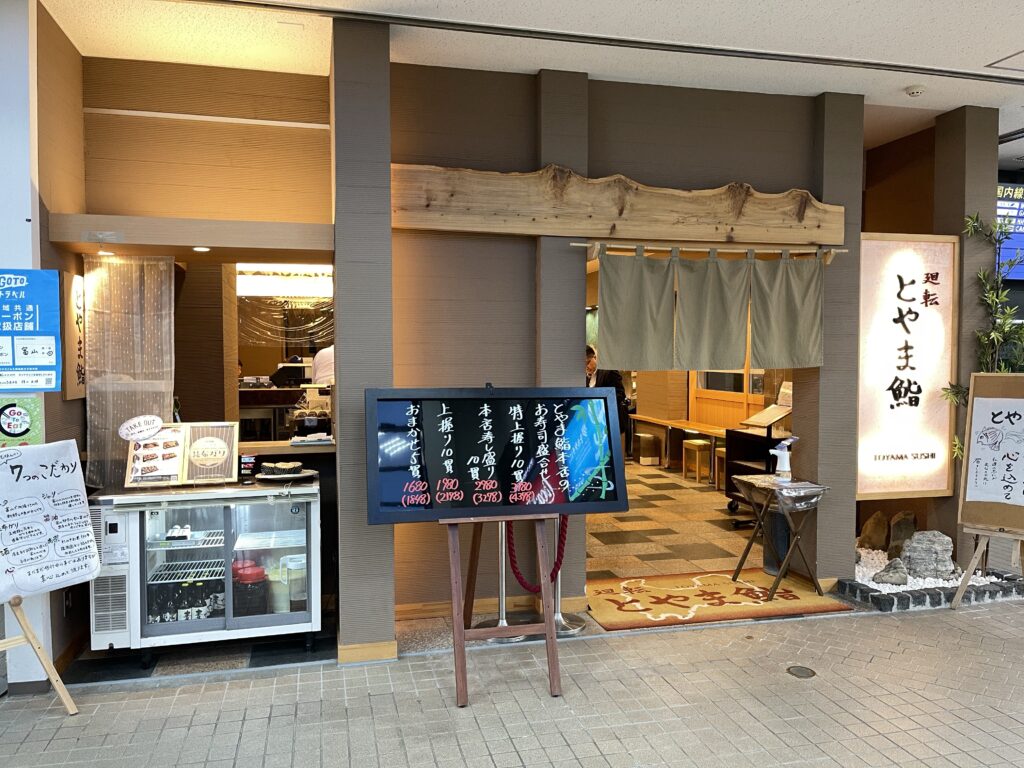 Adress:30 Akigashima Toyama
Opening hours:11:00〜15:00 for Lunch, 17:00~20:00 for dinner
Regular holiday: Wednesday
② SUSHIEI
This is a popular restaurant located in downtown SOGAWA Toyama City. You can enjoy fresh Toyama sushi at a reasonable price. My recommendation is the "Toyama no Aji Nigiri Set" for 3,300 yen. Try the seasonal fish from Toyama!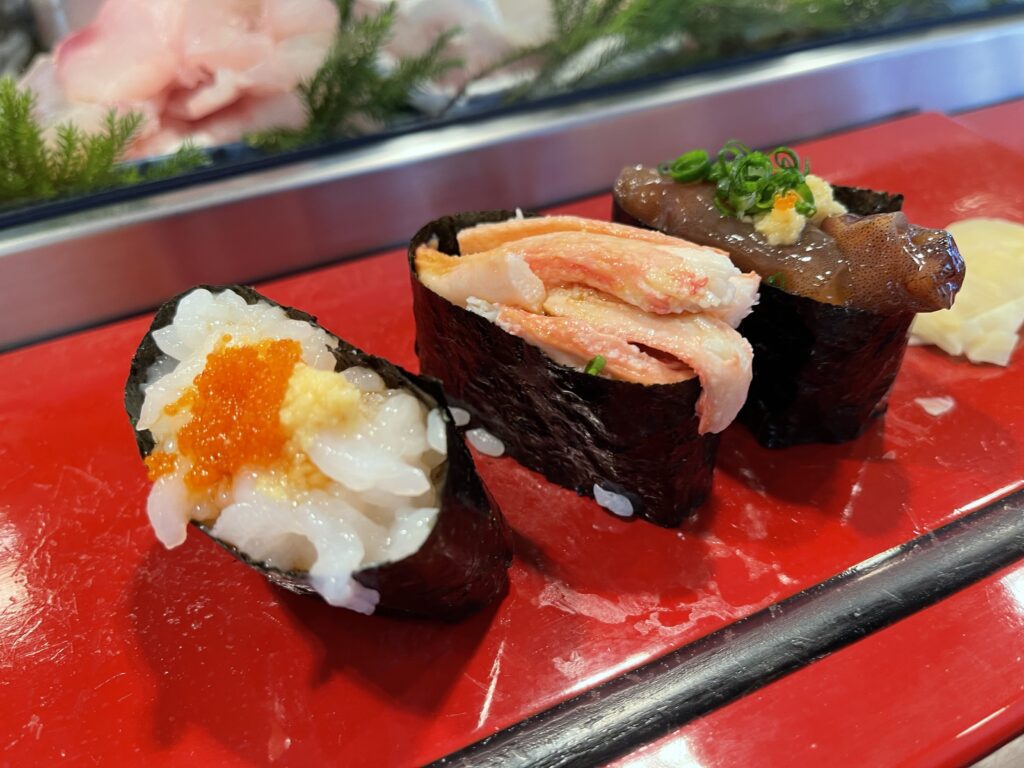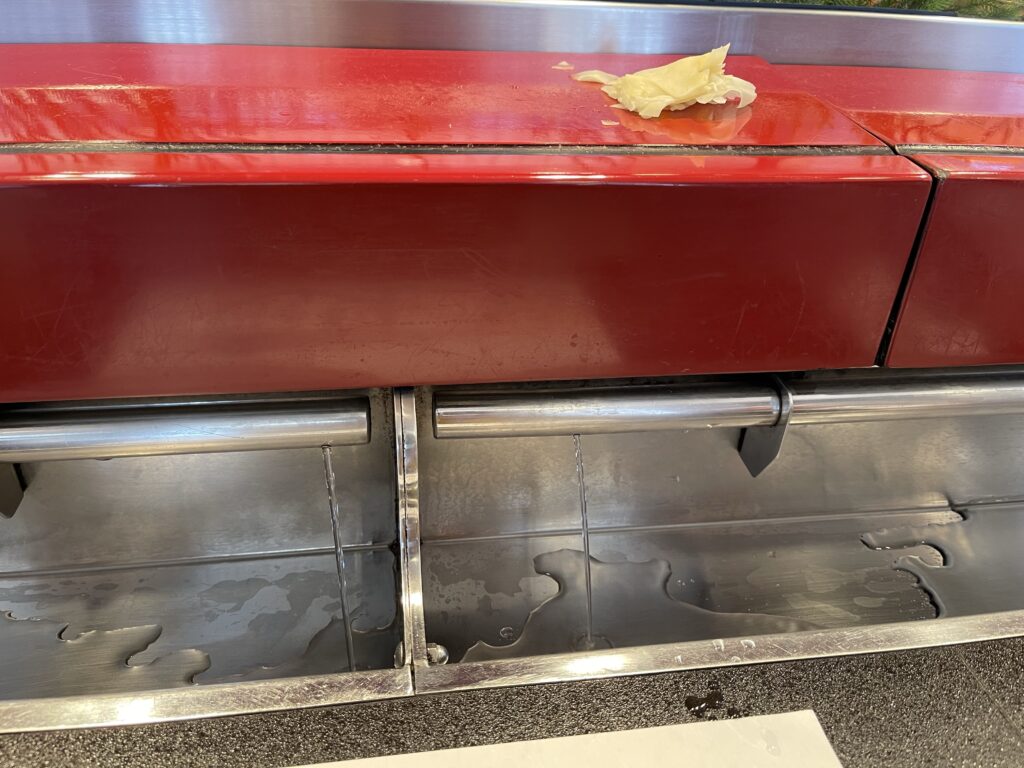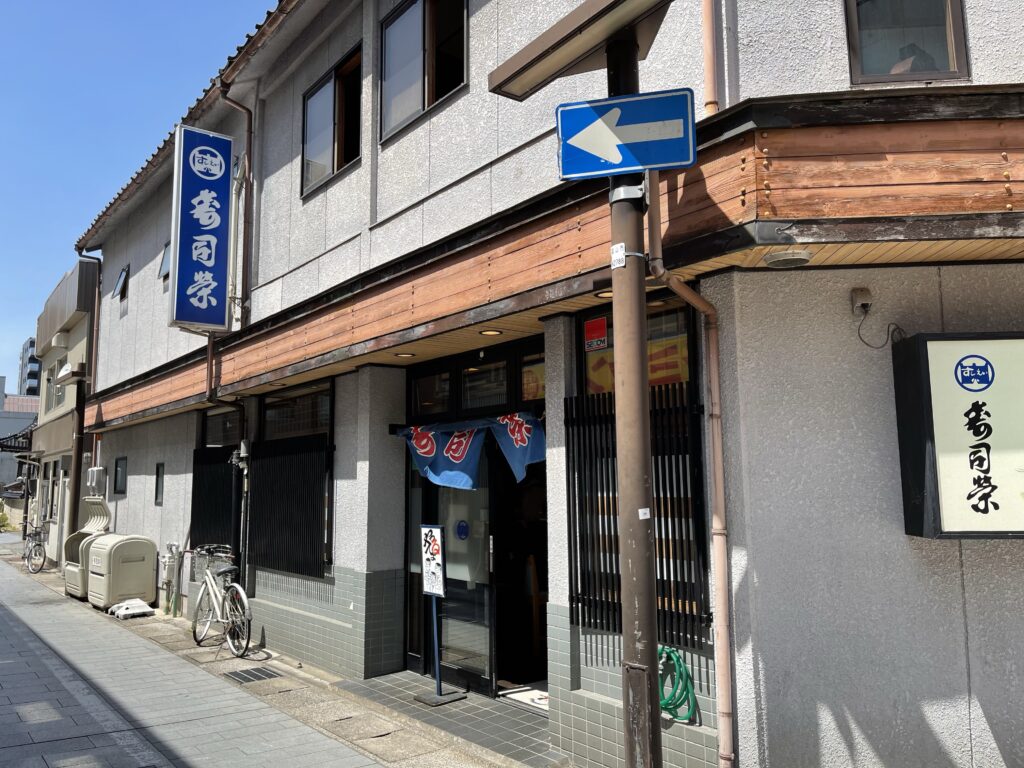 Adress:2-chome-8-22 Sogawa Toyama
Opening hours:11:30〜14:30 for Lunch, 17:00~21:00 for dinner
Regular holiday: Wednesday
③ SUSHI-JIN
This place is extremely popular and top-rated in Japan. You must make a reservation to go. You can have the best sushi of your life for 10,000 yen. All the sushi was delicious, especially the trout sushi, a Toyama specialty.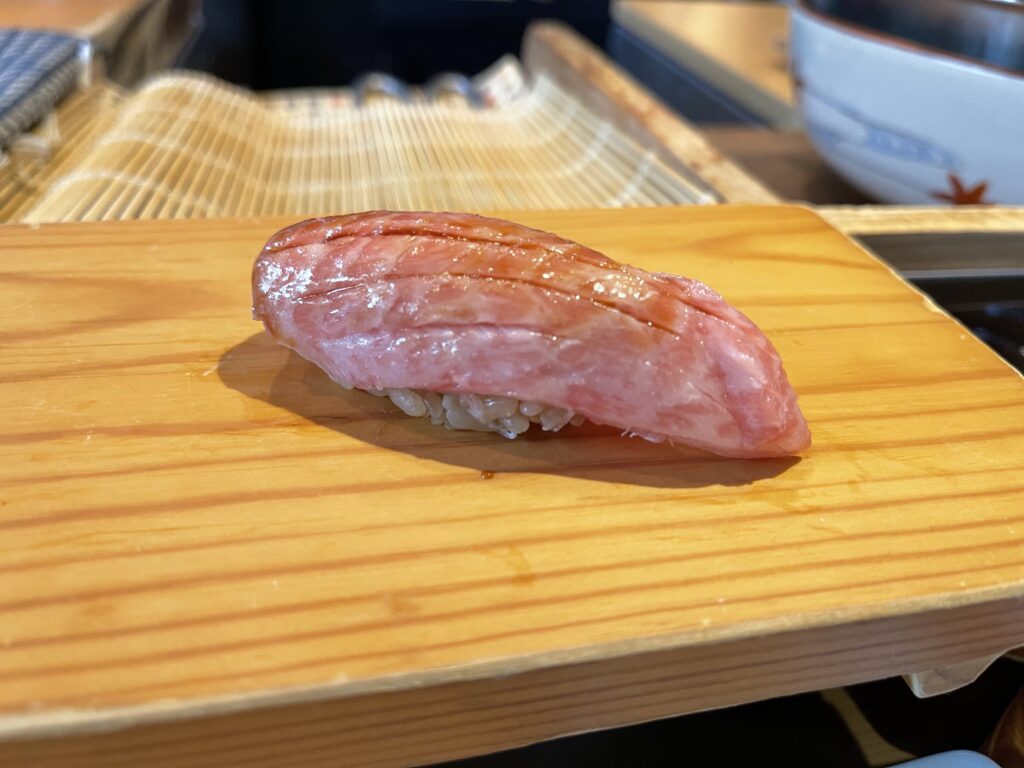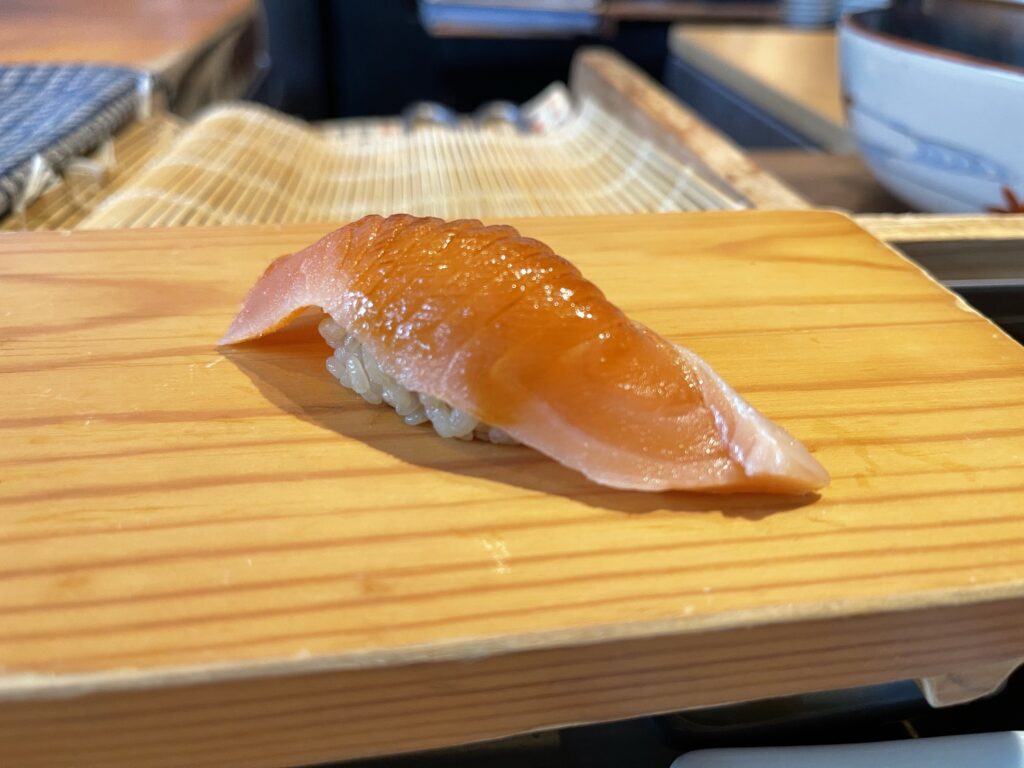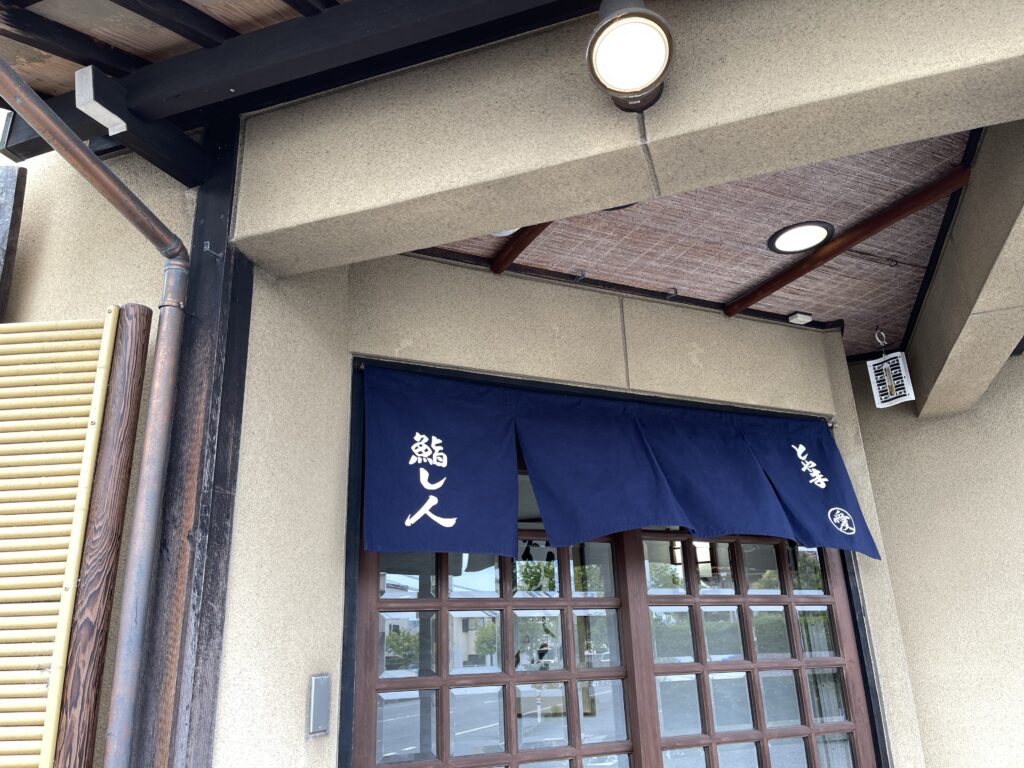 Adress:3-chome-5-7 Shinnezukamachi Toyama
Opening hours:12:00〜14:00 for Lunch, 18:00~21:30 for dinner
Regular holiday: Sunday
④ MINO-SUSHI
This restaurant is recommended by my parents who live in Toyama. The chef, who was originally a sushi chef in Tokyo, returned to his hometown Toyama to open this restaurant. The fusion of Tokyo-style sushi and delicious fish from Toyama is worth a try! It costs around 5000 to 10000 yen.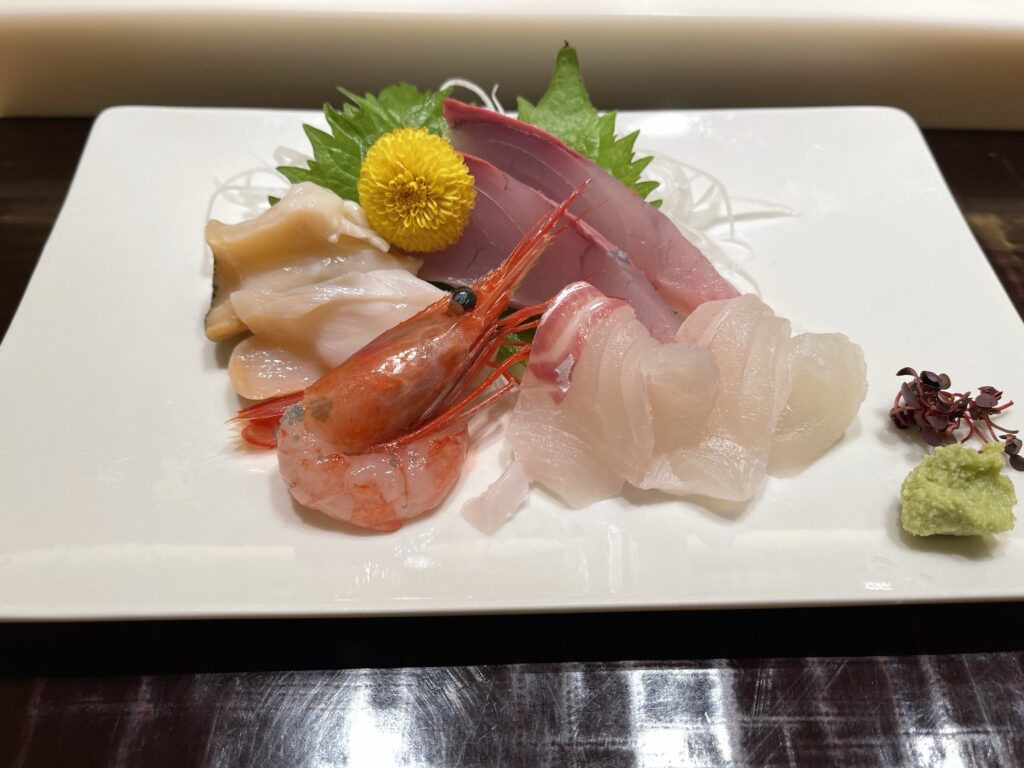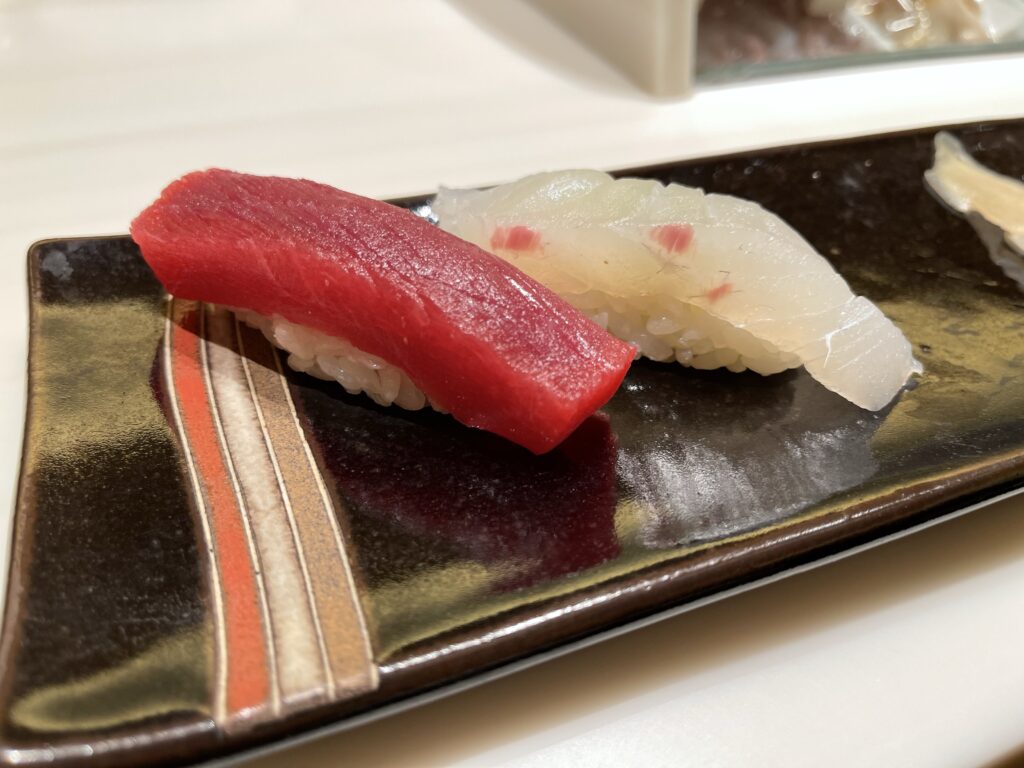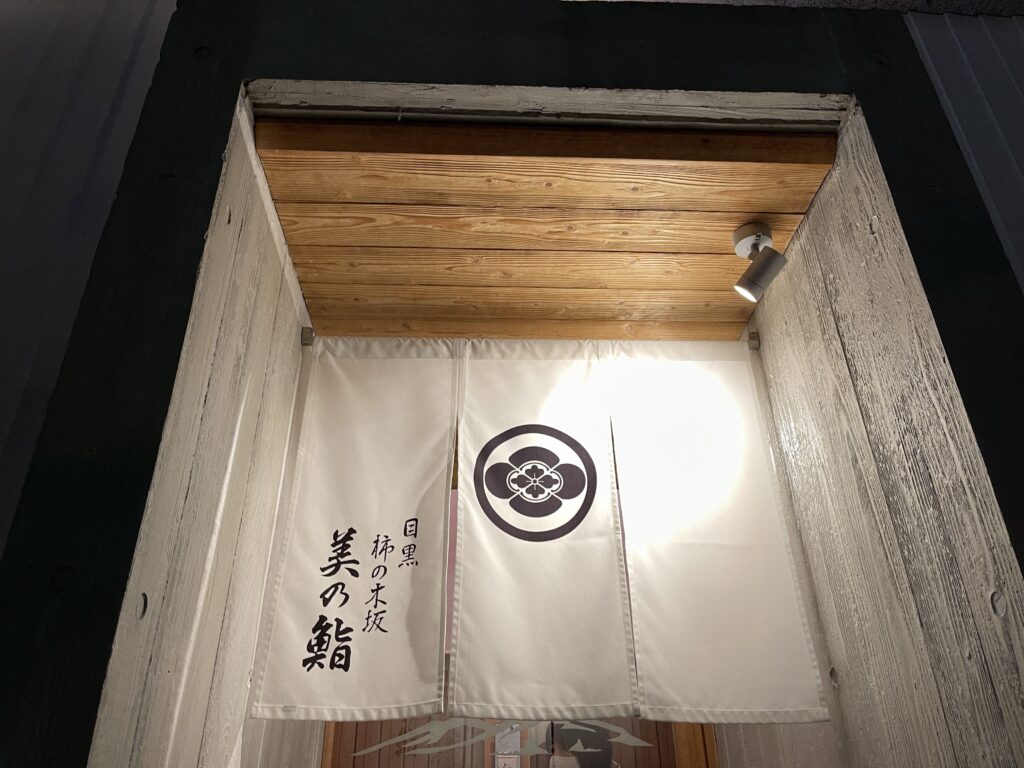 Adress:2-3-4 Marunouchi Toyama
Opening hours:11:30〜14:00 for Lunch, 17:30~21:00 for dinner
Regular holiday: Sunday
⑤ MIKI-SUSHI
This is a popular restaurant near Toyama Station. It was the first time I had sushi in Toyama. I still remember I was really impressed. The famous white shrimp sushi is sweet, juicy and exquisite. You can also enjoy local sake such as Japanese sake. It costs around 5000 to 10000 yen.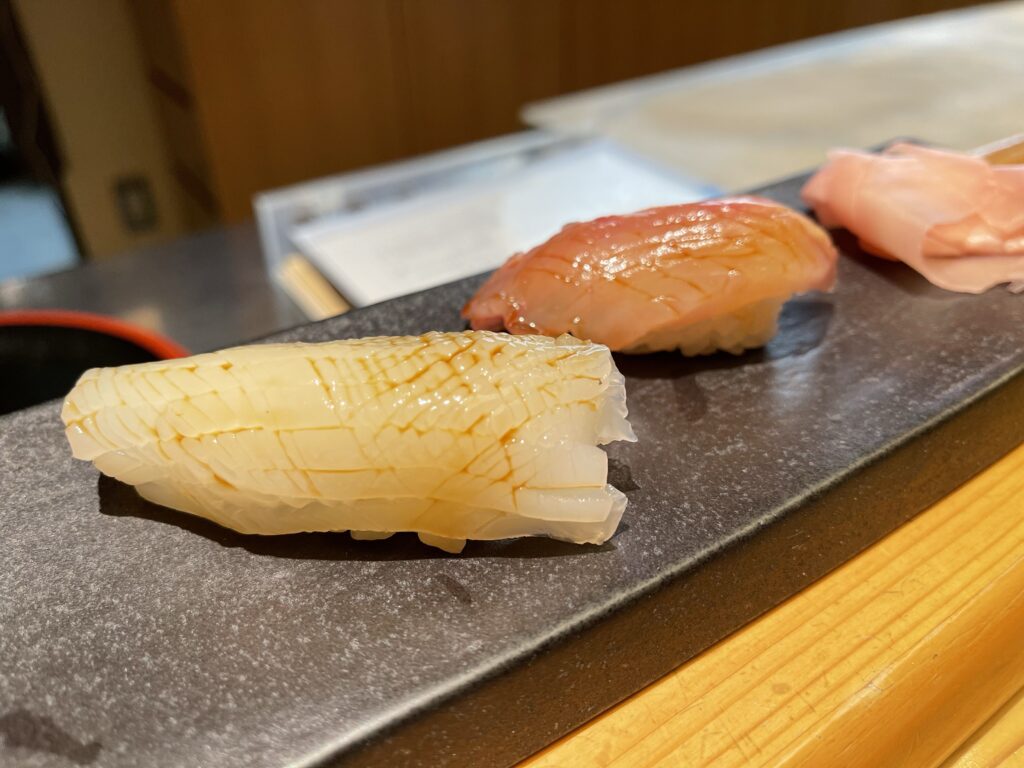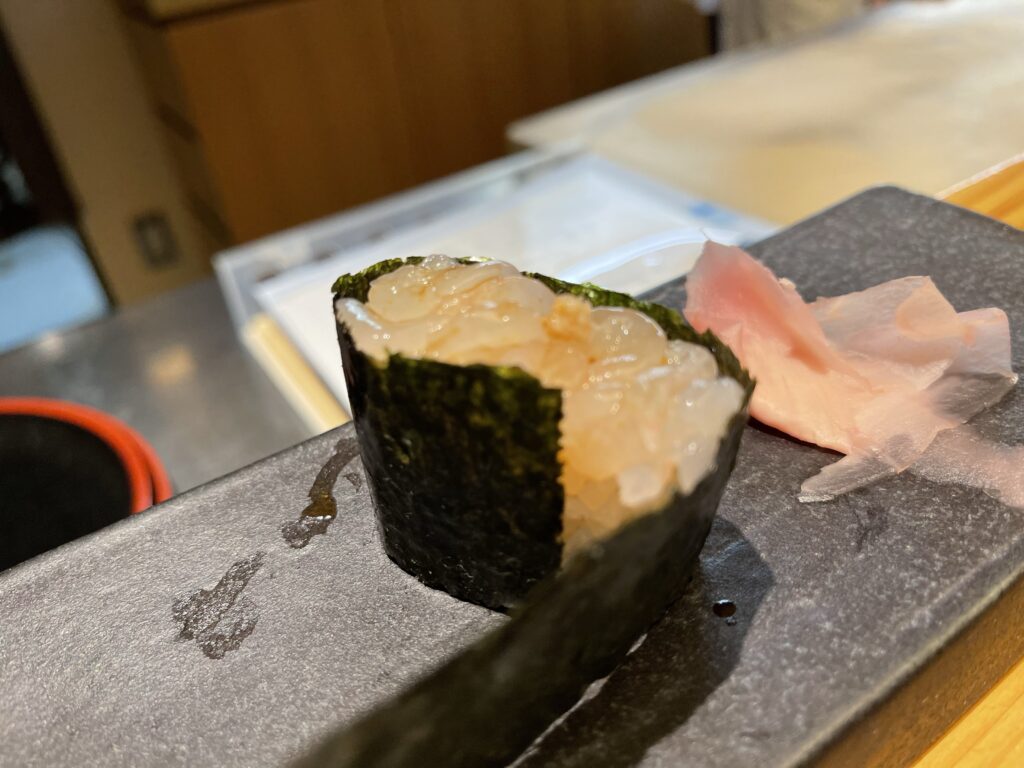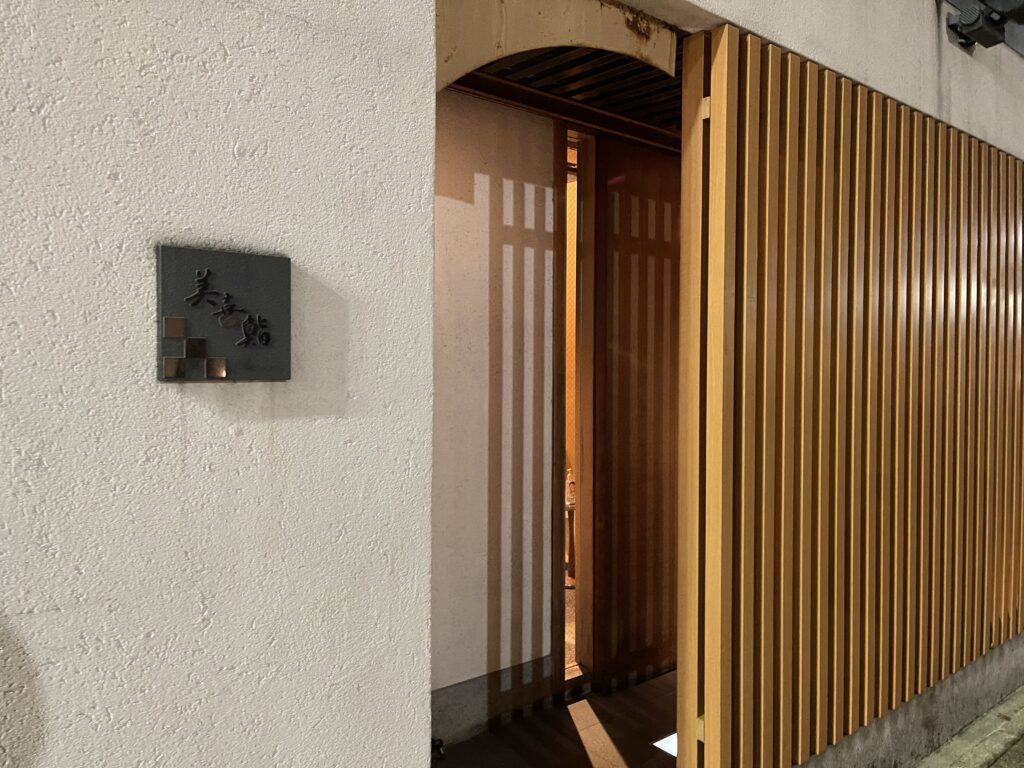 Adress:1-chome-7-5 Sakuramachi Toyama
Opening hours:11:30〜14:00 for Lunch, 17:00~23:00 for dinner
Regular holiday: Wednesday
Gincho Iki-zushi
Gincho is a recently reopened restaurant. You can enjoy fresh Toyama fish purchased from the market every morning. Chirashi-sushi and sushi are available for lunch starting from 1,700 yen. I had the special top dish for 2,450 yen, which was very tasty.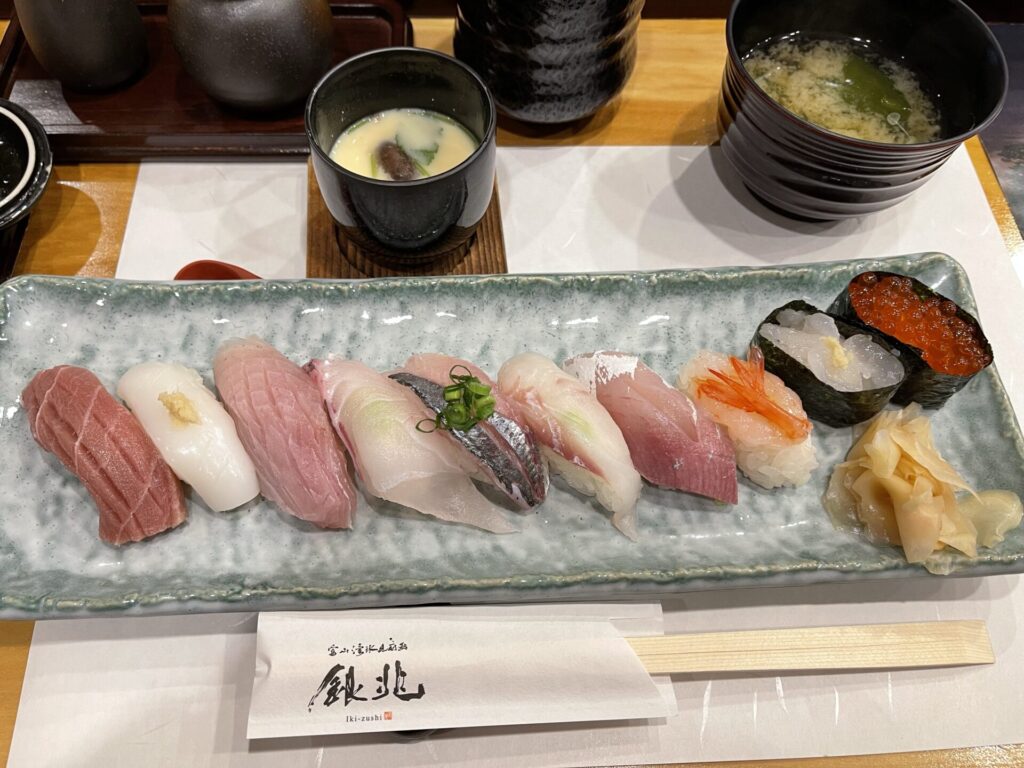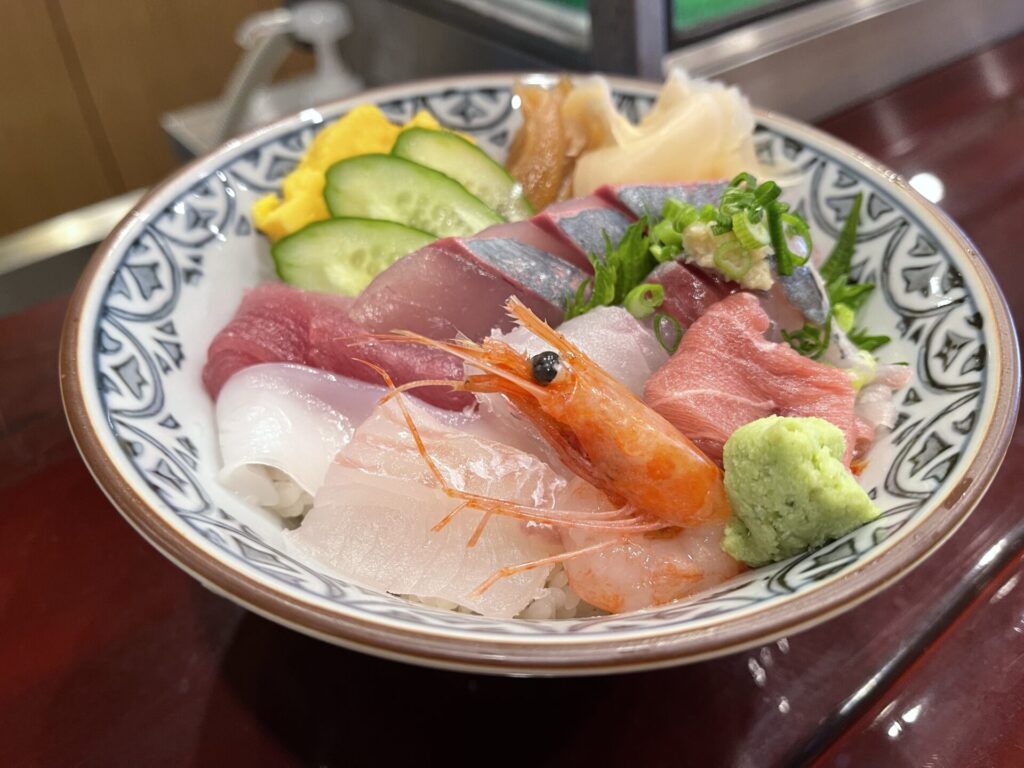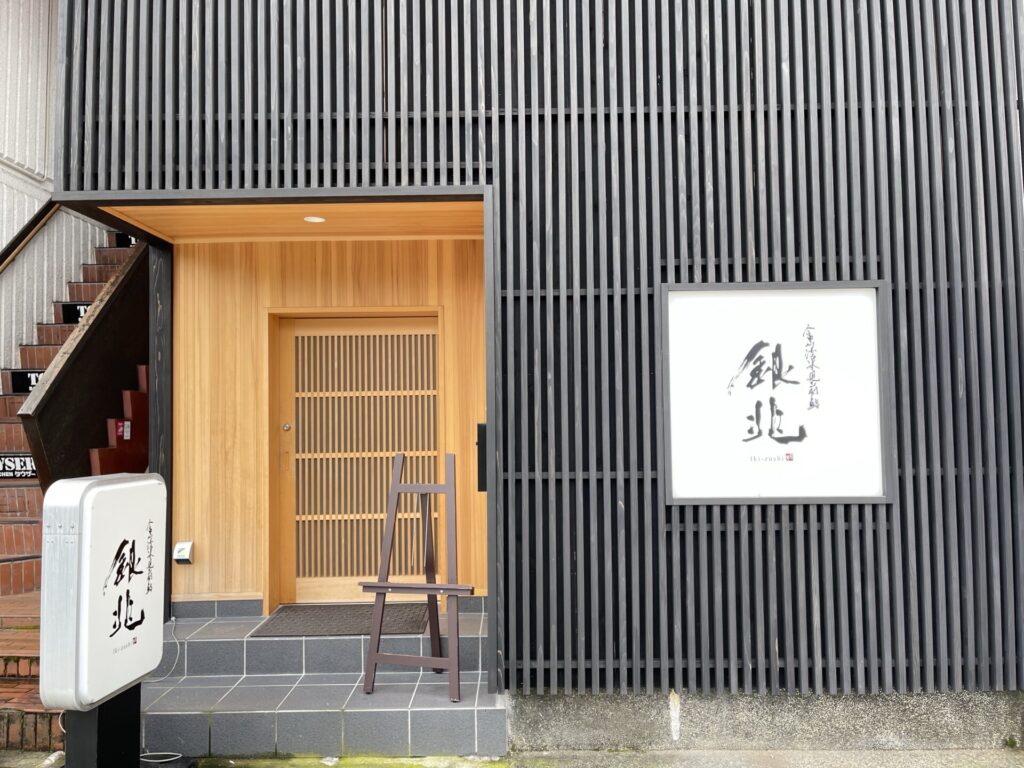 Sushi-Tama at Toyama station
This is a trendy conveyor-belt sushi restaurant located in Toyama Station. Be careful during lunchtime, as there is a long line of people waiting. You can enjoy fresh seafood reasonably, costing about 3,000 yen.
Kito-Kito Sushi at Toyama station
Tama Sushi introduced earlier is always crowded, so in such cases, I also recommend Kitikito Sushi nearby. It costs about 2,000 to 3,000 yen.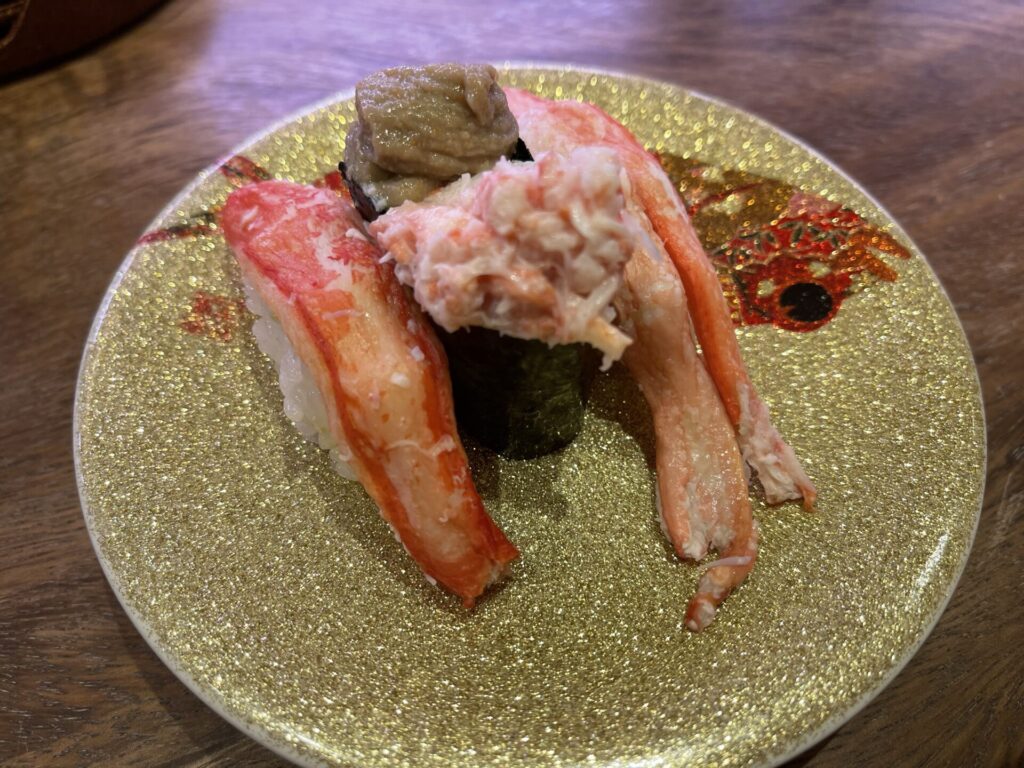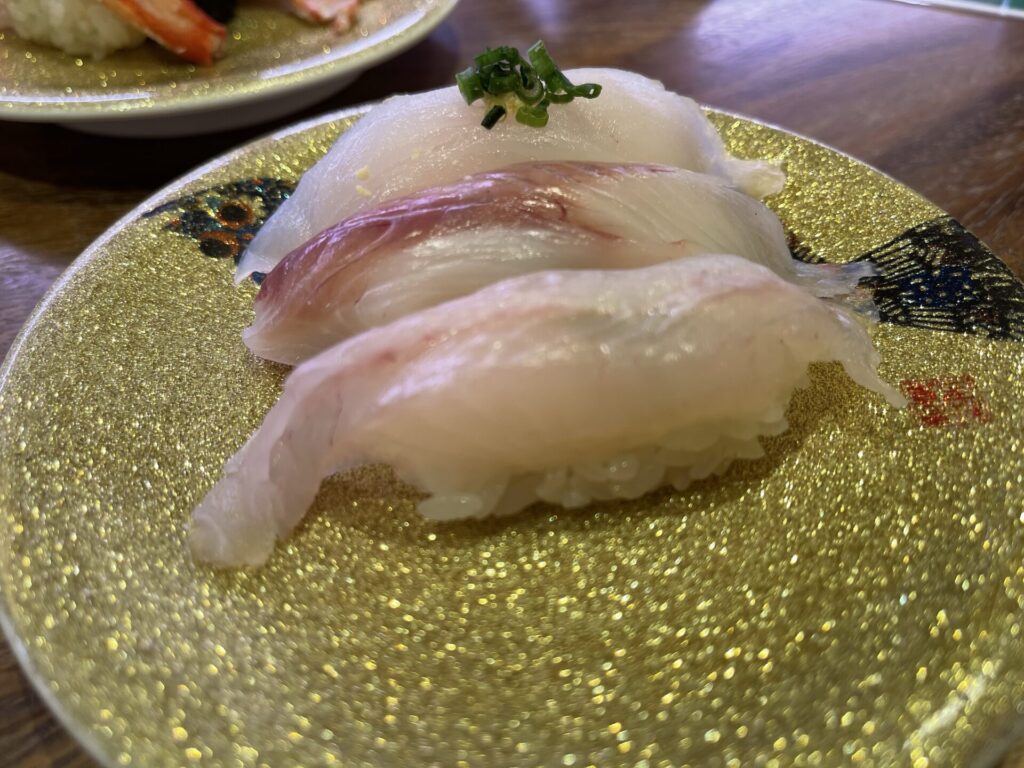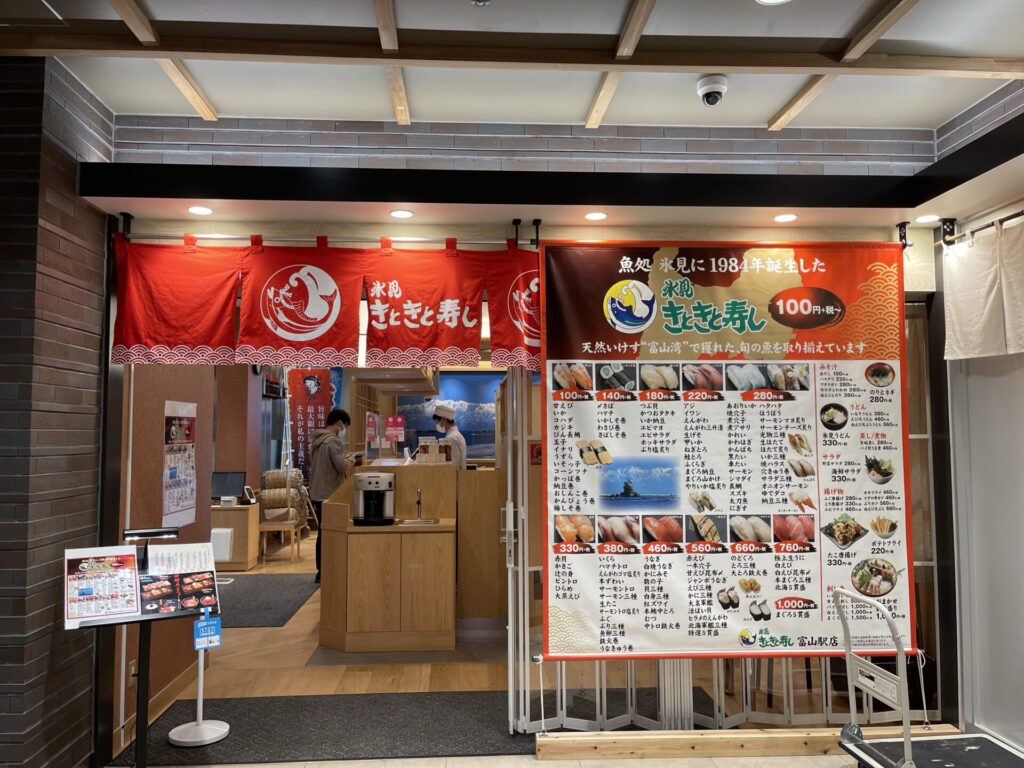 Takayoshi Masu Sushi
Toyama Prefecture is also famous for trout sushi. This sushi is wrapped in leaves to make it last longer. The taste varies from restaurant to restaurant, so please try different restaurants. The local people do not eat it at the restaurant, but take it home to eat.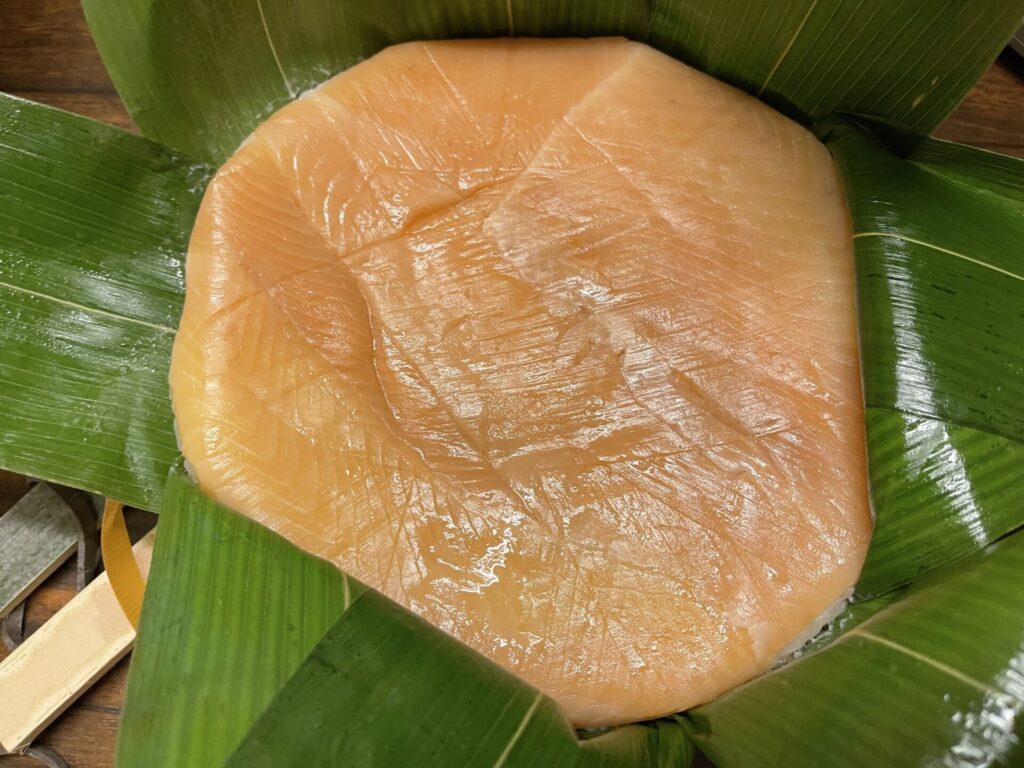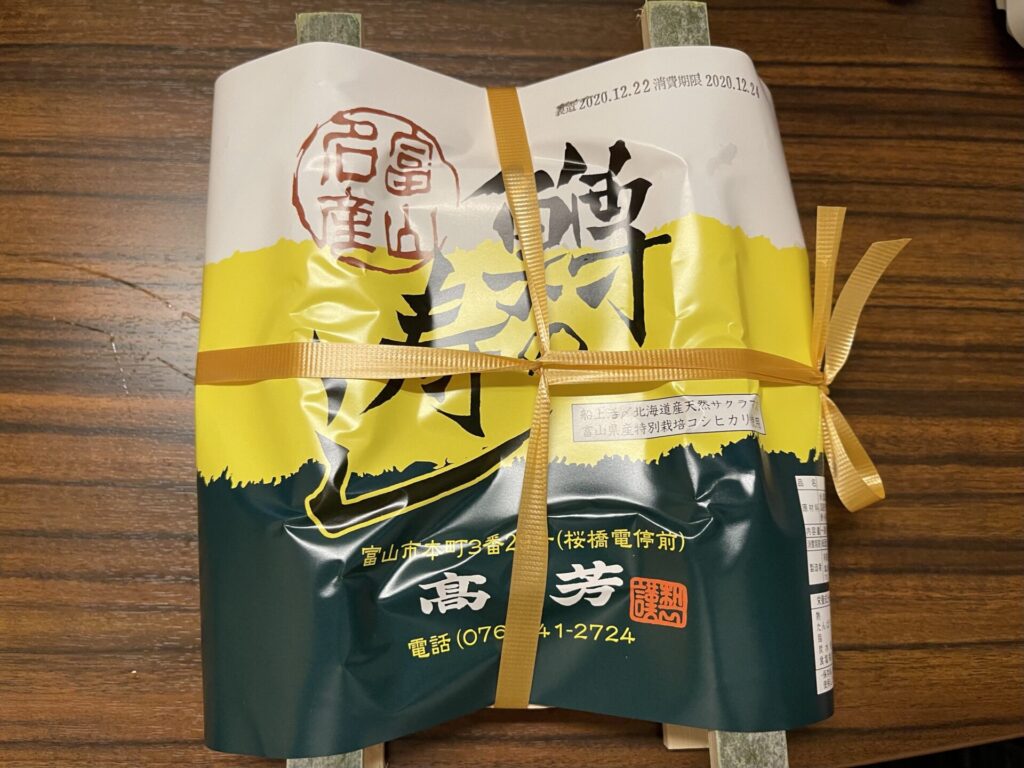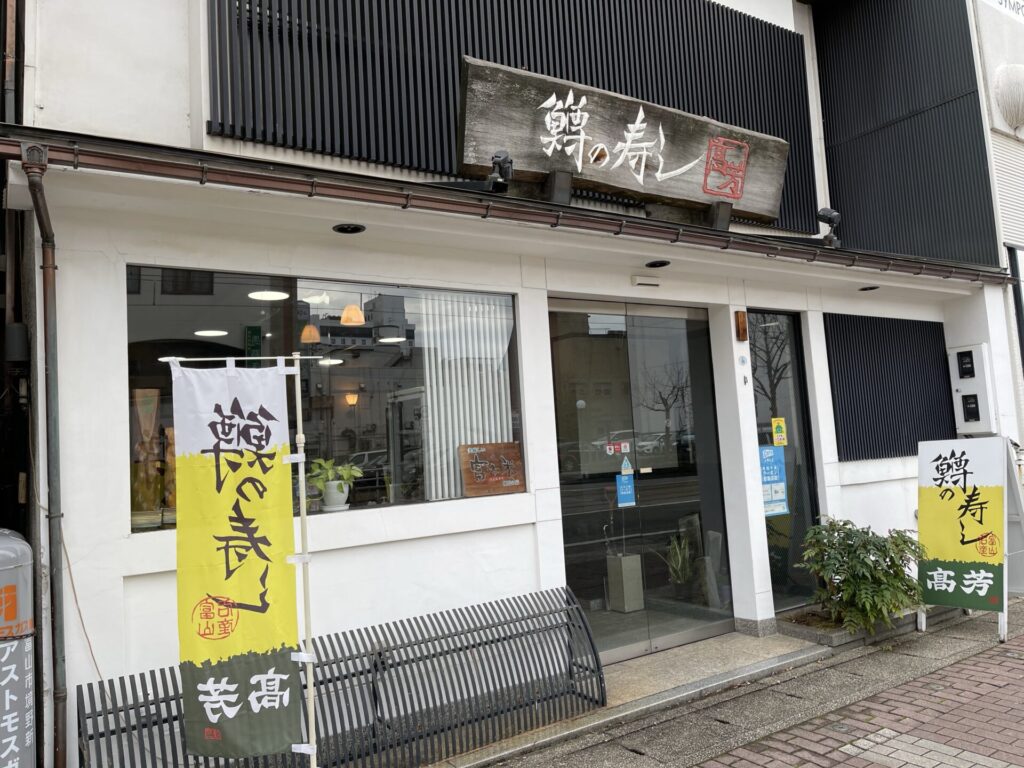 Supermarket is also great
Toyama is a seafood producing area. Therefore, you can find delicious sushi at any supermarket. If you are short on time, please visit a supermarket and look for sushi. It is very fun to visit local supermarkets.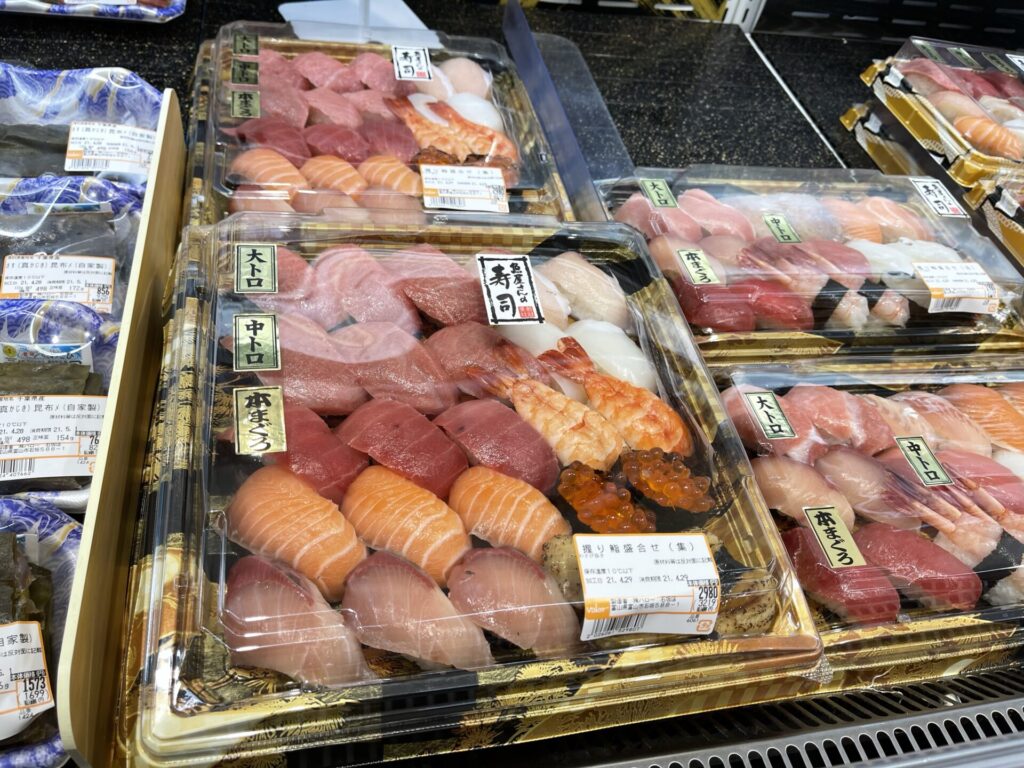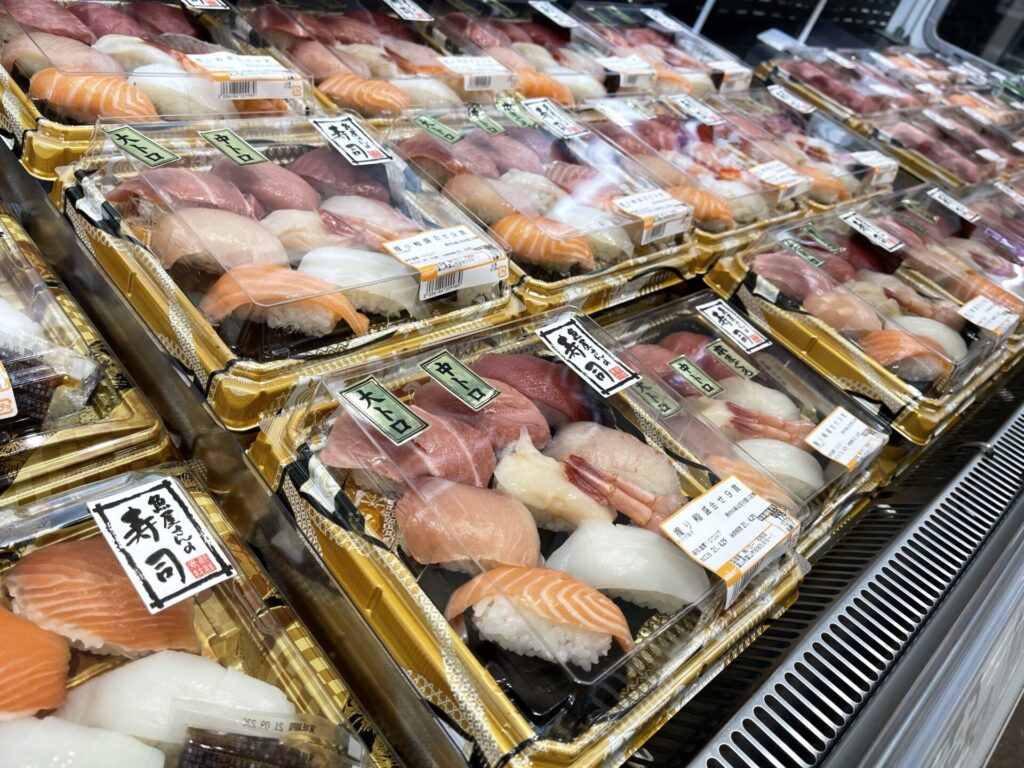 The things to do in Toyama
Toyama is such a great tourist destination. They have great food as I wrote, historical places such as a Takaoka Big Buddha, and nature like a mountain, ocean, and so on. I highly recommend visiting there.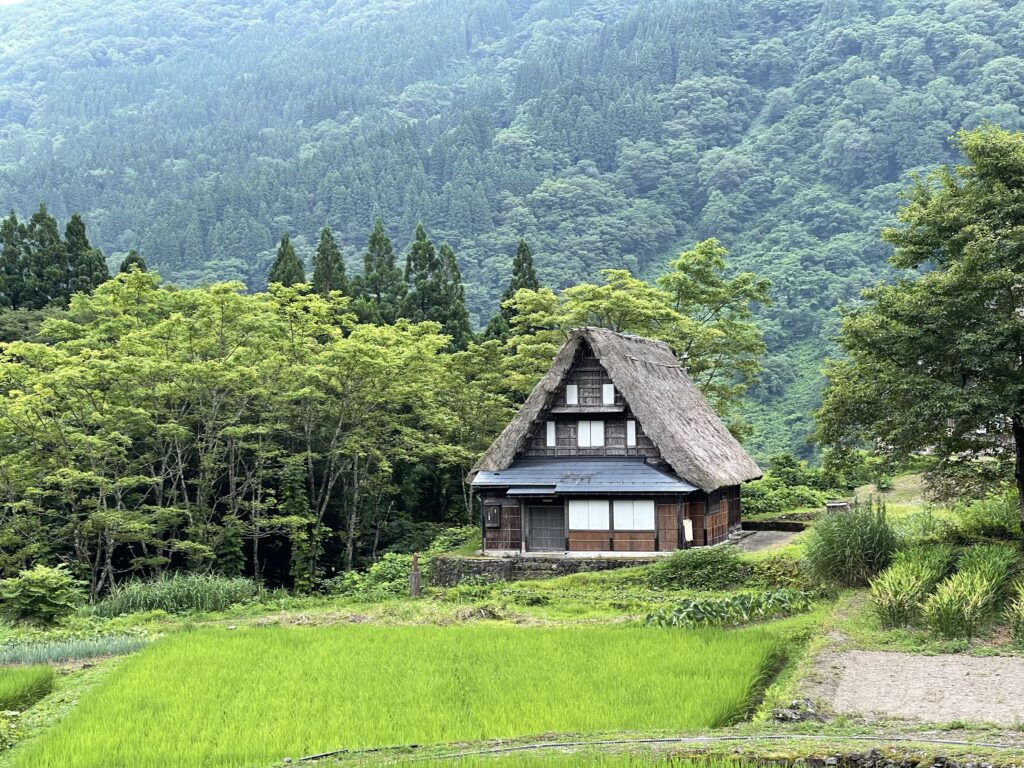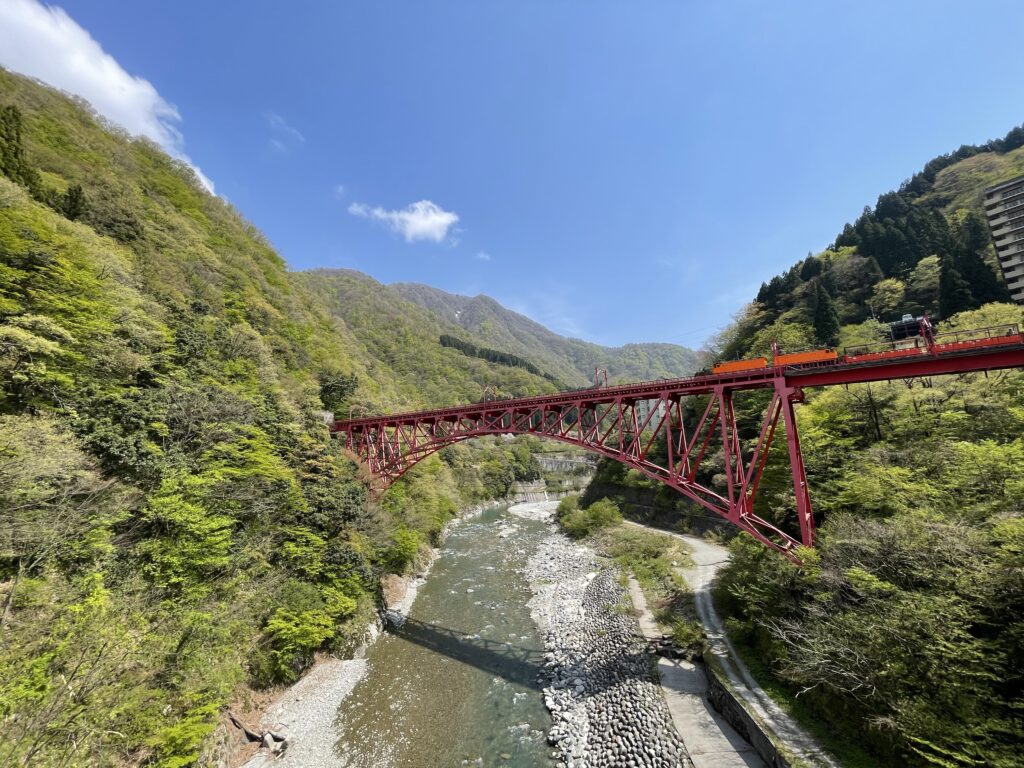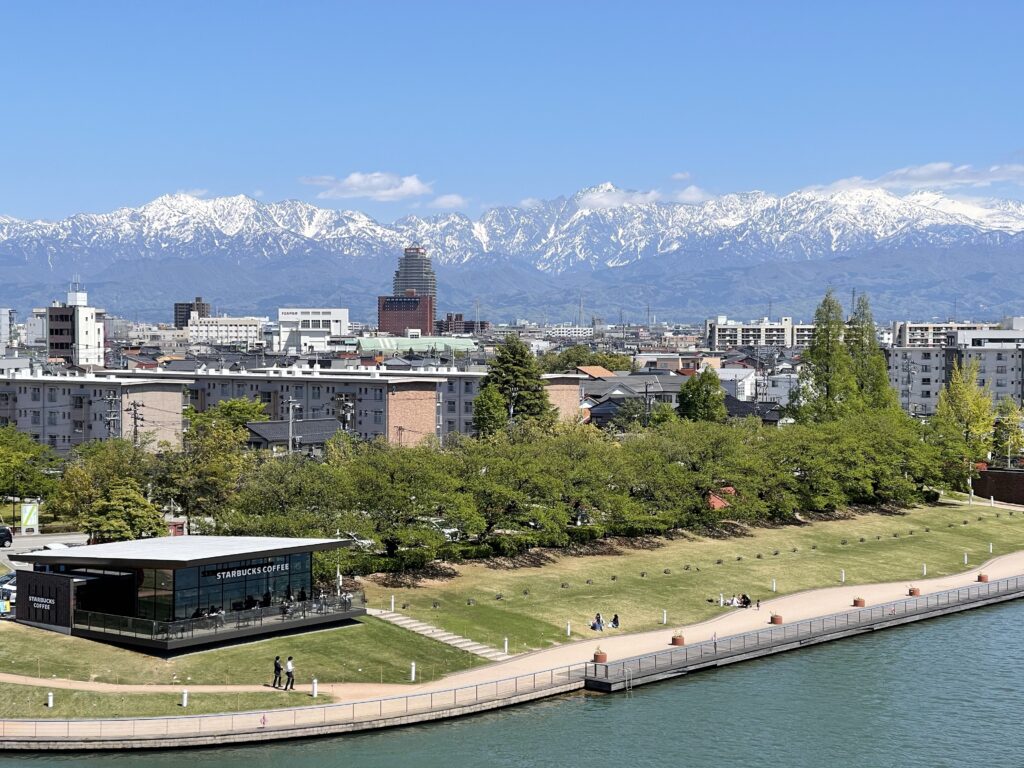 Sushi in Toyama is Brilliant!
How do you like it? I always want to go to Toyama for fantastic sushi. One more thing, Sashimi-don is also famous for Toyama, so I will write another article about them. his post may be good for you, Top 10 you must visit in Japan. See you next time!